We would love to hear from you!
Fire Safety Inspections in Oklahoma City, OK and Surrounding Areas
At Oklahoma Fire & Safety Co., we've been serving the Oklahoma City Metro and surrounding areas for over 16 years with their fire inspection needs. Your home or business needs proper fire protection systems to keep your property and investment safe. If you feel your property is at risk of fire or not properly secured, we can help you fix that. Our licensed technicians can help you with proper fire safety system installation, upkeep, and replacement. We also sell fire extinguishers and can provide both residential and commercial inspections to ensure your fire prevention systems are working as expected.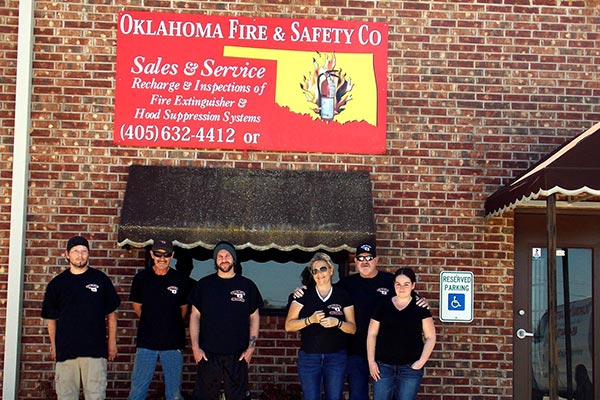 We Keep You Safe
Fires can occur for an assortment of reasons, including misuse, negligence, or various structural failures. A fire suppression system can help keep your home or business safe from random events such as faulty office equipment, a misplaced cigarette, or a faulty kitchen appliance. Other issues can include bad wiring, human carelessness, and clutter. Our services can keep homes and businesses safe from random fires.
Services We Provide
We provide essential fire safety services such as fire extinguisher inspections, hood suppression system inspections, extinguisher recharges, and inspections of your existing fire safety systems. We can also assist with repairs and upgrades to your existing safety systems.
Our Approach
When we provide our fire safety services, we take a detailed step-by-step approach to everything that we do. We check all the components of a fire protection system and make any needed tests to ensure your fire safety system is working as expected and can keep you safe in case of an emergency. In everything that we do, we are systematic and detailed to ensure that your safety system provides the results you expect.
The Importance of Fire Suppression
Every modern building, such as a business or a residence, should have proper fire protection systems in place. We offer a wide variety of fire services to suit the needs of your particular structure. No matter if it's a hospital, school, home, or office, we can help you. We can keep you safe and protected from the dangers and damage fires can cause.
Reach Out To Us Today
If you own property in Tuttle, OK, or other nearby communities, we can help you with your fire protection needs. As a fully licensed business, you can trust the work we provide. We can ensure your property is safe, compliant, and meets all local and state codes for fire protection. Call us today at (405) 632-4412 for a free estimate.
We Serve a 40 mile radius out of Oklahoma City:
Norman, OK | Moore, OK | Newcastle, OK | Bridge Creek, OK | Minco, OK | Union City, OK | Blanchard, OK | Edmond, OK | El Reno, OK | Midwest City, OK | Mustang, OK | Oklahoma City, OK | Tuttle, OK | Yukon, OK