Fire Extinguisher Inspections in Oklahoma City, OK
Your fire extinguishers are one of the most critical fire safety tools at your place of business. When a fire breaks out, fire extinguishers are often one of the first things you reach for in such an emergency. Not only are fire extinguishers a vital safety tool, but you also need to keep them in good working order to meet OSHA requirements. At Oklahoma Fire & Safety Co., we can provide required fire extinguisher services such as fire extinguisher inspections and fire extinguisher recharge to keep your company compliant and, above all, safe.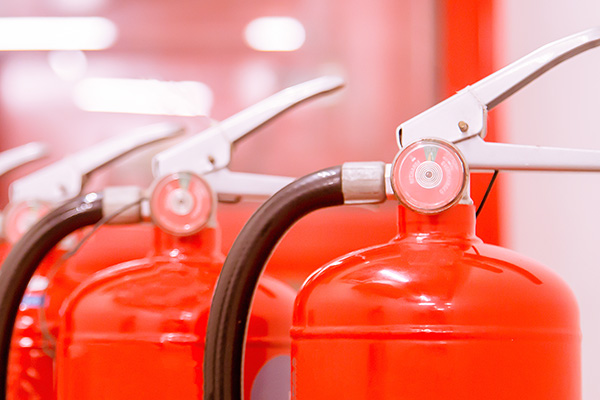 About Our Inspections
We inspect every fire extinguisher you have at your location one by one to make sure they are functional and in expected working condition. We look for common issues and code violations such as gauge pressure, valve condition, and any damage to the outer shell. We also check for functionality by breaking the seal and removing the locking pin to check that when you need to use it, the extinguisher will do its job. As per current standards, you are required to update your fire extinguishers every year and the compression systems every six months. If you need to replace your existing fire extinguishers, we can help as we sell extinguishers that meet Oklahoma state codes for fire safety and functionality.
The Importance of Fire Extinguisher Inspections
Regular inspections of your business's fire extinguishers are essential for several reasons. First among these is meeting standard OSHA compliance to avoid any issues with ordinances, such as fines and other legal concerns. The second is in keeping your business safe. Working fire extinguishers can effectively put out small fires, help control larger fires, and protect evacuation routes in emergencies. When you pick up a fire extinguisher, you need it to work at that exact moment, and in an emergency, you cannot afford delays. Regular inspections keep your fire extinguishers in top working condition for when you need them most.
When you need inspections, you can trust contact Oklahoma Fire & Safety Co. today. We provide fire protection services for companies in Tully, Oklahoma City, and other nearby communities. Reach out to us today. Our licensed technicians will help keep you safe.